Description
Our intumescent pipe collars are manufactured from a high performance material bonded to the inside of a steel sleeve.
On exposure to heat from a fire they rapidly expand inwards to squeeze the collapsing plastic pipe until the aperture is completely sealed.
Pipe collars are tested in accordance with the performance requirements of BS476: Part 20: 1987. Astro E Collar can provide 2 hour fire resistance Astro P Collar offers up to 4 hour resistance.
The pipe collars are light and compact, easy to install, maintenance free and find uses in multi- storey office buildings, flat level developments, hospitals and hotels.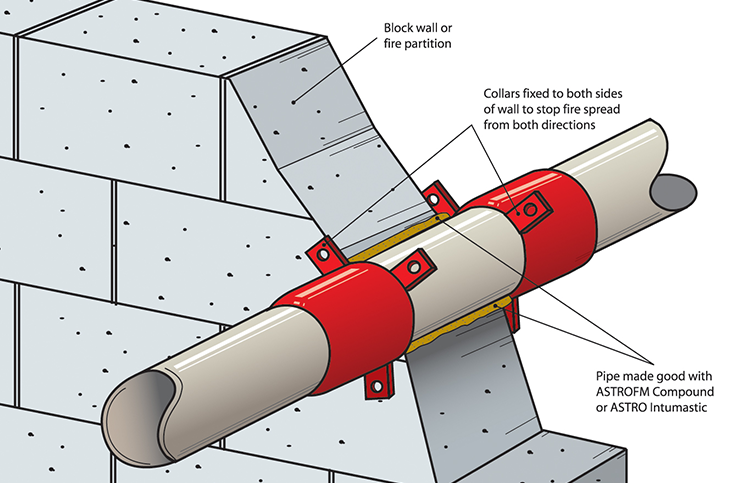 Suitable for use and anywhere plastic soil and waste pipes pass through fire compartment walls and floors. Also tested to EN1366-3.
Related Products: Intumescent mastic and fire resistant mortar - to make good pipe cavity.
Availability
The Astroflame Pipe Collar range is available in standard sizes, to suit 55, 82, 110, 160 & 200 mm diameter pipes, and includes intermediate and larger sizes.
| | | | |
| --- | --- | --- | --- |
| | | | |
| | Astro Collar 55mm 2hr Rated | | |
| | Astro Collar 125mm 2hr Rated | | |
| | Astro Collar 355mm 2hr Rated | | |
| | Astro Collar 275mm 3hr Rated | | |
| | Astro Collar 300mm 3hr Rated | | |
| | Astro Collar 315mm 3hr Rated | | |
| | Astro Collar 32mm 4hr Rated | | |
| | Astro Collar 40mm 4hr Rated | | |
| | Astro Collar 43mm 4hr Rated | | |
| | Astro Collar 55mm 4hr Rated | | |
| | Astro Collar 63mm 4hr Rated | | |
| | Astro Collar 75mm 4hr Rated | | |
| | Astro Collar 82mm 4hr Rated | | |
| | Astro Collar 90mm 4hr Rated | | |
| | Astro Collar 110mm 4hr Rated | | |
| | Astro Collar 125mm 4hr Rated | | |
| | Astro Collar 160mm 4hr Rated | | |
| | Astro Collar 200mm 4hr Rated | | |
| | Astro Collar 225mm 4hr Rated | | |
| | Astro Collar 250mm 4hr Rated | | |
To Order & Specify
Please contact us and quote the following information - Please quote- Quantity / Trade name / Product Ref / Size / Rating Typical wording- 10 / Astrocollar / AFPC55/2E / 55mm / 2hour

>> Tel: 01329 844 500 or >> Email: sales@astroflame.com
Installation
For further information on installation requirements please see the installation video or contact the technical team on: tel 01329 844 500 or email sales@astroflame.com
Health and Safety
The product does not present any known health hazards during or after installation. Normal good industrial and personal hygiene practices should be observed. For further information on health and safety requirements please contact the technical team on: tel 01329 844 500 or email sales@astroflame.com
Fire Test and Assessment Reports
BS476:Part 20 : 1987
EN1366-3